Thursday 17th November 2016 at 8.00pm in the Club House Hotel
What do you associate with a late Thursday in November?
Well nul points if you said Thanksgiving Day (that is the 24th this year) as there is a much more important event in Europe. That event is the official release of the 2016 Beaujolais Nouveau wine. For while other red wines mature in barrels and bottles for years, most Beaujolais wine goes from vine to glass in a few short weeks, and is released for consumption on the third Thursday of November, and you can get to be among the first to taste this year's vintage in the Club House Hotel on Thursday 17th November at 8.00pm.
The event is part of the Cultural Programme of the Alliance Française Kilkenny and will include a talk from Tanguy de Toulgoët (from the Dunmore Country School) on Le Vin et Le Gout de Terroir (Wine and the taste of the local area). The talk will be (mostly) in French but it is amazing how some wine adds to comprehension and conviviality! There will be some tasty finger food and some classy music to carry the night through.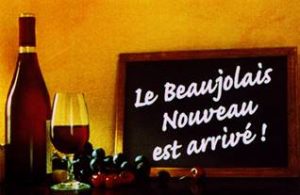 As for the wine, the centrepiece of the evening, sourced by the Alliance Française from a well-known producer and shipped under strict injunction that it cannot be opened until the Thursday night (when it will be opened all over Europe), well when it is gone it is gone, but we'll also have finger food and fun company.
The cost for all of this is a mere €5, so why not check out this year's vintage and have some vintage company on 17th November at 8.00pm in the Club House Hotel?
It will be a night not to be missed, and hopefully we'll see you (and even some of your friends with you) there on the 17th.
Santé!