Enrolment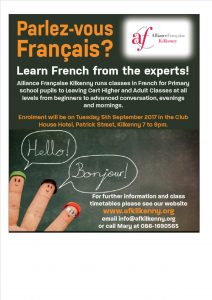 Enrolment for the September-January 2019-20 Term will take place on Monday 2nd September from 7 – 9 pm at the Club House Hotel. 
New adult students who have not previously been taught at an Alliance Française will be assessed to find the most suitable class. We recommend using the link below for an on-line assessment [this is part of the international AF Frames standard].
http://www.alliance-us.org//Merlin/Placement.htm
Fees
The fee for one term is €150 for adults and €135 for children and second level students. There are 14 classes in a term.
Fees are due before or on first class and are non-refundable.
There is a reduction of 10% for two or more students from the same family.