Enrolment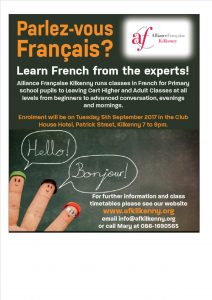 Enrolment for the September- December 2020 Term will take place on Monday 7 September 2020 from 7 – 9 pm at the Club House Hotel. 
Classes (for this term anyway) will be run through the Zoom video conferencing software.
New adult students who have not previously been taught at an Alliance Française will be assessed to find the most suitable class. We recommend using the link below for an on-line assessment [this is part of the international AF Frames standard].
http://www.alliance-us.org//Merlin/Placement.htm
Fees
The fee for one term is €150 for adults with a 10% discount for attending two classes or if two from the one family are attending. There are 14 classes in a term.
Fees are due before or on first class and are non-refundable.
There is a reduction to €100 for those who were enrolled last term and lost out due to the suspension of classes due to the pandemic.
You can email info@afkilkenny.org and let us know which class you are joining (using class number) and pay by Credit Transfer/SEPA to our Bank Account (Alliance Française Kilkenny: BIC is IPBSIE2D and IBAN  IE91IPBS99063680018550  ( note the letter after IE91 is I).  Please include your name and class number to the transfer details.