Celebrate 14 July in Beaujolais Wine Bar from 8pm with the Alliance Française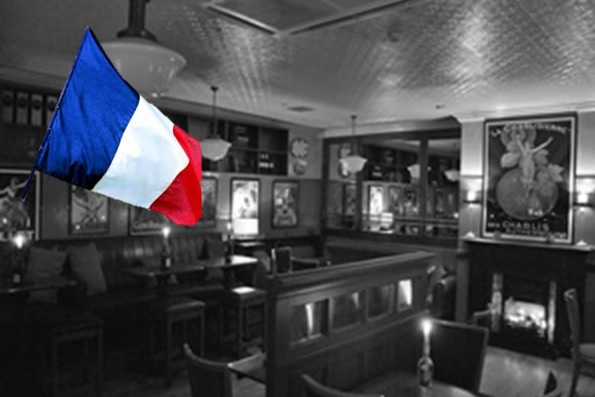 Greetings! The Fête National of France is 14th July celebrating the storming of the Bastille (not that there were too many prisoners in it at the time, including one Irishman, but it was seen as a symbol of oppression!) Anyway music and dancing are the typical French ways of celebrating it and we in the Alliance Française Kilkenny will be having a musical and convivial evening in Beaujolais Wine Bar (at the rear of Bollard's Bar in Kieran Street, enter via the bar) from 8.00pm.
It is just a gathering of Francophiles and Francophone, there is no admission charge, buy your own food and drink and enjoy great company and some superb French music from the delectable and talented Claire McHugh.
Bastille Day in Castlecomer
A message from the Castlecomer Penvénan Twinning Group:
Bastille Day is July 14th
Come along to our stand at Eurospar on Saturday 11th July and savour some French cuisine. We will be there from 9.30 AM to 3.30 PM. We are running this in conjunction with a French themed weekend at Eurospar. We will provide information on exchanges that have taken place since 1999 and on our plans for 2015 and 2016. We will have photos of Penvénan and surrounding area and a display of presents received from The Penvénan Twinning Committee.

Since 1999 nearly 600 people have travelled between our towns. Groups who have travelled include: Transition year students and teachers, Deen Celtic F.C, Castlecomer Athletics Club, Teachers from Presentation Convent Primary School, Local Artists, Musicians Committee members, families and Community School Students on The Ger Heffernan Scholarship.

J.A.P. Football Club, Teenagers, Choir, Athletics Club, Pipe band, Committee Members, tourists and families have travelled here from Penvénan.
Looking forward to meeting you on Saturday and hopefully we can attract new members to our group.
Other Events
Jack Lukeman plays the Set Theatre on Saturday 11th July. He is known for his excellent renditions of Jacques Brel chansons. For more information: https://www.set.ie/events-guide/events/jack-l-(4) 
A French Male Choir will be giving a performance in the Hole in the Wall on Sunday 12th July at 8.00pm.
They boast a wide repertoire from Irish songs to sailors' songs. You can visit their blog at chgaillardavant.canalblog.com for more information.