The Alliance Française of Kilkenny celebrated 70 years of teaching French and promoting French language and culture on 19 May 2018. At a gala event in the River Court Hotel some 80 convivial Francophones and Francophiles gather to celebrate and toast this significant milestone in their existence. Guest of Honour at the occasion was the French Ambassador M. Stéphan Crouzat along with M. Thierry Lagnau, the Directeur Géneral of the Alliance Française in Ireland. Also present were representatives from the other branches of the Alliance Française i
n Ireland in Dublin, Waterford, Limerick and Cork along with David Fitzgerald Chair of Kilkenny County Council.  After a fine meal the attendees were treated to a selection of arias and song fr
om the French repertoire by renowned tenor Patrick Rafter accompanied by his wife Maura. Then, music in an Irish idiom was provided by Mary and Áine Fitzgerald from Galway, with toe-tapping jigs and reels and tender ballads.
Speaking to the assembled guests the Ambassador M. Crouzat praised the work and dedication of the Kilkenny Alliance, and reminded listeners that the Alliance Française in Dublin is the biggest one in a non-French speaking country, and that recently our Taoiseach Leo Varadkar  has announced (in French) Ireland's application to join the Francophonie, the club of French-speaking states, as an observer. This 57-member Commonwealth-style organisation is a way of fostering links between French-speakers particularly in Africa, where there is a huge French speaking population.
In her address President Therese White spoke of the founder of the Kilkenny Alliance: James Delehanty.
"I would like to say a few words about him.  I met him several times in the 1980s.  I remember him as a courteous, softly spoken, rather shy person who never boasted of his achievements.  I learned of those much later.  He merely mentioned that after the Second World War, in 1948, an important year, he founded the Kilkenny French Society.
From an early age, James Delehanty was passionately interested in all forms of literature – prose, poetry and theatre.
In the years 1940-50 he was attached to probably the most influential Irish literary magazine of the 20 century, "The Bell".  The Bell was published monthly from 1940 to 1950, printing the works of our best writers: Frank O'Connor, Patrick Kavanagh, Liam O'Flaherty, Hubert Butler and others.  It was the liberal voice of Ireland, critical of censorship, of parochialism and clericalism.  It opened the eyes of its readers to different European influences, to other forms of identity, reaching far beyond the narrow bounds of nationalism.
Due to financial problems and possibly pressure from various hostile quarters it ceased its activity in 1954.  To save that enormously important heritage several publishers, writers and our James Delehanty undertook the task of creating what is now known as "The Bell Index", which includes all of the editorials, essays, short stories, poems and reviews ever published in The Bell.
The departure of The Bell created a void.  So, later on, in 1960 James Delehanty founded The Kilkenny Literary Society and became the editor of The Kilkenny Lit
erary Society Magazine.  From 1960 to 1970 it was a major literary publication in Ireland, a vehicle for Irish literary talent.  Kate O'Brien, Seamus Heaney, Brien Friel, Frank O'Connor, Patrick Kavanagh, Hubert Butler, contributed with their prose and poetry to the wealth of Irish literature.
James Delehanty, being a Francophile and a connoisseur of French literature and history, wrote reviews of the works of Camus (that was the time when Camus w
as awarded the Nobel Prize) and essays with reflections on the French Revolution.
Let's return to 1948.
I have tried to guess why James Delehanty, that brilliant and literary minded man, chose that time to pay a kind of homage to France and her culture by creating in his home town, Kilkenny, a French Society.  He himself said: it was an important year.
Possibly, and this is my personal deduction, it was in response to an extremely important event that happened that year, linking Ireland and France.  It was the return of the remains of William Butler Yeats from France to Ireland.
Michael, Yeats' son, and Sean MacBride, at that time the Minister of Foreign Affairs, approached the French Embassy with a request to help them to locate and exhume the remains of WB Yeats and assist in returning them home.
The Ambassador of France to Ireland from 1946 to 1951 was HE M Stanislas Ostrorog.
He was of Polish origin, the son of Count Ostrorog, of a noble Polish family residing in France since the 19th century.  Apart from being a professional diplomat, holding diplomatic posts in several countries before coming to Dublin, he was a writer himself.  So, maybe, this was why his involvement in this endeavour showed such an extraordinary dedication, patience and personal determination.  The task was not easy.  WB Yeats died in Menton and was buried in the small village of Roquebrune, Cap Martin, in the south of France.  The professional assistance of many people was necessary.  There was a lengthy correspondence between the Ambassador and M Jacques Camille of the Ministère des Affaires Etrangères in Paris.  HE M Ostrorog personally supervised the entire operation and paid for it himself from a private Embassy fund. The remains were transported from Roquebrune to Nice, followed by a funeral procession to the ship, with a band, trumpeters and military honours from a company of French Alpine troops.  It was the first time that France had rendered military honours to a civilian.  The Irish ship, the corvette LÉ Macha, carried the remains from Nice to Galway.  The journey took 17 days.  Finally the remains of our greatest poet arrived in Ireland in September 1948 and were buried where Yeats himself had wished to rest, in Drumcliffe cemetery in Sligo.
The burial was of a national importance.  I am sure that James Delehanty was very moved.  So maybe, The Kilkenny French Circle was the result of that.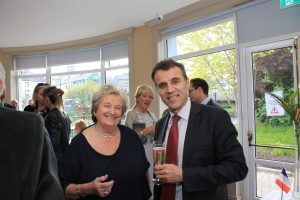 In 1960 all the Alliances in Ireland became the official branches of the worldwide organisation.  The first Delegué Général arrived in Dublin.  In 1974 the Dublin Headquarters were inaugurated by the then Prime Minister Jacques Chirac.
From the 70s, our Alliance has become more and more structured, with well-organised tuition of the French language, evenings promoting the French culture, producing plays, organising lectures.  Proper governance has been introduced, the constitution of the company has been created and signed, and the Presidents, company directors and directors of language courses and cultural events have been elected and re-elected.
It has never stopped functioning, and has never ceased in its task – to promote French culture and the French language.
I would like to salute, with all my heart, the officers of our Alliance who have made this continuity possible over so many years.  Some of them are among us today.
I salute our Presidents: Margaret O'Shea, Mary Darmody, John FitzGerald, Sabine Dowling, John Delehanty, Kevin Walsh, and Fred Tuite.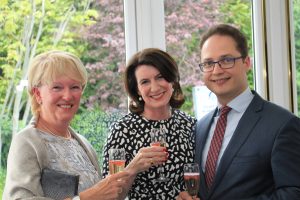 Our Directrice Culturelle: Margaret Hayes,
Our Treasurers: Marcella O'Regan, Maura Joyce, Donal Deering, John Delehanty who have suffered many headaches in solving our financial problems
All our Professors: Sabine Dowling, Solenn Ryan, Patricia O'Connor, Tanguy de Toulgoët, Fabrice Bartholin
The members of the Committee and all the members and Friends.
One says that strength and power is in numbers.  But I think that strength is in determination, hard work, enthusiasm and most of all in total fidelity to a cause.
Vive l'Alliance Francaise de Kilkenny!  Vive La France!
The Alliance Française will be enrolling for classes for adults in September 5th 2022 and then continuing its monthly cultural evenings. It also has a weekly gathering for French speakers in the Club House Hotel Terrace on Thursday mornings from 11.00am. All details are available on this website www.afkilkenny.org